The last few years have been an unpredictable time for the entire world. The business environment today is creating challenges for businesses in more ways than they could have anticipated.
Many organizations have adapted to the change in dynamics by implementing remote working models for their businesses. The shift to a remote working environment has also increased the risk of cyberattacks. Business owners realize the need to invest in their IT department and boost their cybersecurity.
However, financial challenges during the pandemic are making it impossible for companies to allocate substantial benefits for their cybersecurity. IT Managed Services Providers (MSPs) / Managed Security Services Providers (MSSPs) are becoming increasingly popular in helping enterprises implement better and more cost-effective security solutions against cyberattacks.
Partnering with the right MSSP can help your business drastically reduce their spending on IT and remain within a lower budget without compromising on their cybersecurity and IT requirements.
An MSP/MSSP is a third-party that your company can partner with to manage and implement network security for your organization. These firms provide your company with on-demand and comprehensive cybersecurity solution providers to suit your company's changing requirements and eliminate the need to hire in-house teams to do the job.
MSSPs provide you with various services to improve your company's network and cybersecurity, including:
Managed firewalls
Detecting intrusion attempts
Setting up secure VPNs
Implementing system upgrades or changes
Blocking cyberattacks
Device management
Consultancy services
Log monitoring and management
MSSPs offer their services in the Software-as-a-Service (SaaS) model. Your company gets only what you pay for without investing in hardware or training employees for the tasks that MSSPs can handle.
How an MSP/MSSP Can Reduce Your Expenses
Working with an MSSP for your company's cybersecurity solutions can significantly reduce costs for your company across various areas.
As companies continue to adopt cloud-based solutions, cybersecurity threats are only increasing. The need for MSSPs and the services they provide has never been more important. Not having the adequate cybersecurity solutions can leave your business wide open to debilitating attacks. The average cost of a ransomware attack on businesses is $133,000.
Not investing in cybersecurity can completely decimate your business. However, MSSPs can reduce overall costs for your business to ensure top-notch security while remaining in your budget.
Here are some of the ways partnering with an MSP/MSSP can reduce your expenses:
The average cost of a data breach is $3.86 million in 2020. One of the most impactful ways partnering with an MSSP can save money for companies with low IT budgets is by eliminating data breach-related expenses.
Whenever your company has any sensitive information or confidential data, there is a risk that hackers will try to breach the network security to obtain the data. As cybersecurity threats become more sophisticated, it is becoming necessary to protect your business from possible data breaches.
Another crucial way that partnering with an MSSP saves money for companies with a low IT budget is by eliminating any upfront costs on expensive technology. The MSSP provides you its services using a SaaS model.
It means that you will benefit from its cloud-based services without investing in any hardware. The MSSP invests in its own hardware, and your organization only has to pay for the security services they provide.
When you work with an MSSP, you no longer need to hire an in-house IT security department in your company. It can save you a substantial amount of money that you would otherwise have had to invest in salaries, training, facilities, benefits, and other compensations.
Hiring an Managed IT Service Providers eliminates the need to hire and train professionals for your IT security. The firm already employs top professionals in the industry who can provide you on-demand IT security without the upfront or ongoing costs that come with an in-house IT security department.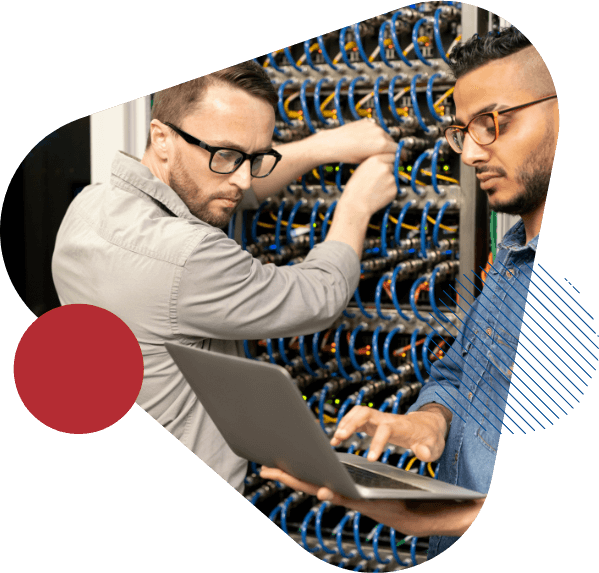 Find the Right MSP for your Business
We provide small and medium-sized businesses with outstanding managed IT services at highly competitive rates.
Partnering with an MSSP also means you get constant monitoring for your company's security systems. Most MSSPs operate and provide their services to companies worldwide. It means they have a significant focus on staying up-to-date with the latest cybersecurity threats.
Hiring an in-house team cannot provide you adequate protection against the latest threats. Additionally, hiring in-house employees to monitor the security systems can add more expenses with limited capacity since they can operate within work hours.
MSSPs provide round the clock monitoring. They know about the latest threats. Additionally, they are well-equipped to protect against advanced cybersecurity threats and address them even if a breach occurs.
Partnering with an MSP/MSSP can also save money for companies with low IT budgets by providing them with consistent and reliable expenses. When your company operates its own IT security infrastructure, there will be several regulations, guidelines, and unexpected challenges that can come your way.
When these challenges come up, you might have to spend extra money to ensure compliance with the latest security standards, control assessments, or security program developments to keep up with the regulations.
Partnering with an MSSP eliminates this cost. The firm already focuses on updating their systems to guarantee compliance. They conduct vulnerability assessments, routine scans and handle other security functions for your company – all without additional or unexpected expenses to your company.
Predictable costs also allow you to manage your budget better and invest on other areas of the business to fuel more growth.
Partnering with MSSPs Provides Returns on Investment
When your company works with an MSSP, your company benefits in more ways than just the cost savings. The overall return on your investment is more significant than the cost reduction.
Outsourcing to managed IT service providers can eliminate costs related to IT security and help improve the overall efficiency of your company's operations. MSSPs can also provide you with scalable services. It means that they can increase their offerings for your business as it grows and reduce them if you need to cut expenses.
Your company can focus entirely on growing your business without being cautious due to security risks. Working with a managed IT services provider like Microsys can help you get the IT solutions you need to successfully protect your business without going over your IT budget. The MSSP can handle the security, and you can run your business. It will improve your productivity, give you more room to fuel your growth, and enjoy continuous success.
Get in touch with us today!